Product Description
Products Description
 
| | |
| --- | --- |
|   Car Model | SPABB CV joint include most popular car model, Japanese cars, Korean cars, European cars and American cars. |
|   Market | Active in Africa, South America and the Middle East at competitive prices |
| Qulity Standard | ISO/TS16949:2009 |
| Quality guarantee | 12 months |
| Delivery time | 30-45 days |
| MOQ | 100pcs |
FAQ
1. Is the product fit to your car model?
Please check if the parts are suitable for your model before purchase.
Or please tell us your Car Model and OE Number, and tell us the product name.
2. What you can supply to me?
We could supply all kinds of auto spare parts and accessories. Besides ,we provide OEM service, shipping service and QC service as well to make sure you get ONE-STOP purchase process from us.
3. Can you customize the products as per our request?
Yes, we do OEM and ODM. We could make the product suggestion based on your idea and budget.
4. How to get a sample from you?
All samples will be free if unit cost under 20USD,but the freight should be on your side. If you have express account like DHL,UPS etc we will send you directly, if you don't have you can send express cost to our paypal account, any sample cost could be returned when you make order.
5. What's your payment term?
We usually doing 30% deposit and 70% balance against copy of B/L by T/T, We also accept L/C ,D/P if total amount over $30000.
Welcome to your inqury now and built a long cooperatitive relationship with our professional service.
| | |
| --- | --- |
| After-sales Service: | Available |
| Condition: | New |
| Color: | Silver, Black, Original |
| Certification: | CE, DIN, ISO |
| Type: | C.V. Joint |
| Application Brand: | Nissan, Iveco, Toyota, Ford, Honda |
Samples:

US$ 1/Piece

1 Piece(Min.Order)

|
Request Sample
Customization:

Available

|

Customized Request
Are there any limitations or disadvantages associated with drive shafts?
While drive shafts are widely used and offer several advantages, they also have certain limitations and disadvantages that should be considered. Here's a detailed explanation of the limitations and disadvantages associated with drive shafts:
1. Length and Misalignment Constraints:
Drive shafts have a maximum practical length due to factors such as material strength, weight considerations, and the need to maintain rigidity and minimize vibrations. Longer drive shafts can be prone to increased bending and torsional deflection, leading to reduced efficiency and potential driveline vibrations. Additionally, drive shafts require proper alignment between the driving and driven components. Misalignment can cause increased wear, vibrations, and premature failure of the drive shaft or its associated components.
2. Limited Operating Angles:
Drive shafts, especially those using U-joints, have limitations on operating angles. U-joints are typically designed to operate within specific angular ranges, and operating beyond these limits can result in reduced efficiency, increased vibrations, and accelerated wear. In applications requiring large operating angles, constant velocity (CV) joints are often used to maintain a constant speed and accommodate greater angles. However, CV joints may introduce higher complexity and cost compared to U-joints.
3. Maintenance Requirements:
Drive shafts require regular maintenance to ensure optimal performance and reliability. This includes periodic inspection, lubrication of joints, and balancing if necessary. Failure to perform routine maintenance can lead to increased wear, vibrations, and potential driveline issues. Maintenance requirements should be considered in terms of time and resources when using drive shafts in various applications.
4. Noise and Vibration:
Drive shafts can generate noise and vibrations, especially at high speeds or when operating at certain resonant frequencies. Imbalances, misalignment, worn joints, or other factors can contribute to increased noise and vibrations. These vibrations may affect the comfort of vehicle occupants, contribute to component fatigue, and require additional measures such as dampers or vibration isolation systems to mitigate their effects.
5. Weight and Space Constraints:
Drive shafts add weight to the overall system, which can be a consideration in weight-sensitive applications, such as automotive or aerospace industries. Additionally, drive shafts require physical space for installation. In compact or tightly packaged equipment or vehicles, accommodating the necessary drive shaft length and clearances can be challenging, requiring careful design and integration considerations.
6. Cost Considerations:
Drive shafts, depending on their design, materials, and manufacturing processes, can involve significant costs. Customized or specialized drive shafts tailored to specific equipment requirements may incur higher expenses. Additionally, incorporating advanced joint configurations, such as CV joints, can add complexity and cost to the drive shaft system.
7. Inherent Power Loss:
Drive shafts transmit power from the driving source to the driven components, but they also introduce some inherent power loss due to friction, bending, and other factors. This power loss can reduce overall system efficiency, particularly in long drive shafts or applications with high torque requirements. It is important to consider power loss when determining the appropriate drive shaft design and specifications.
8. Limited Torque Capacity:
While drive shafts can handle a wide range of torque loads, there are limits to their torque capacity. Exceeding the maximum torque capacity of a drive shaft can lead to premature failure, resulting in downtime and potential damage to other driveline components. It is crucial to select a drive shaft with sufficient torque capacity for the intended application.
Despite these limitations and disadvantages, drive shafts remain a widely used and effective means of power transmission in various industries. Manufacturers continuously work to address these limitations through advancements in materials, design techniques, joint configurations, and balancing processes. By carefully considering the specific application requirements and potential drawbacks, engineers and designers can mitigate the limitations and maximize the benefits of drive shafts in their respective systems.
What safety precautions should be followed when working with drive shafts?
Working with drive shafts requires adherence to specific safety precautions to prevent accidents, injuries, and damage to equipment. Drive shafts are critical components of a vehicle or machinery's driveline system and can pose hazards if not handled properly. Here's a detailed explanation of the safety precautions that should be followed when working with drive shafts:
1. Personal Protective Equipment (PPE):
Always wear appropriate personal protective equipment when working with drive shafts. This may include safety goggles, gloves, steel-toed boots, and protective clothing. PPE helps protect against potential injuries from flying debris, sharp edges, or accidental contact with moving parts.
2. Lockout/Tagout Procedures:
Before working on a drive shaft, ensure that the power source is properly locked out and tagged out. This involves isolating the power supply, such as shutting off the engine or disconnecting the electrical power, and securing it with a lockout/tagout device. This prevents accidental engagement of the drive shaft while maintenance or repair work is being performed.
3. Vehicle or Equipment Support:
When working with drive shafts in vehicles or equipment, use proper support mechanisms to prevent unexpected movement. Securely block the vehicle's wheels or utilize support stands to prevent the vehicle from rolling or shifting during drive shaft removal or installation. This helps maintain stability and reduces the risk of accidents.
4. Proper Lifting Techniques:
When handling heavy drive shafts, use proper lifting techniques to prevent strain or injuries. Lift with the help of a suitable lifting device, such as a hoist or jack, and ensure that the load is evenly distributed and securely attached. Avoid lifting heavy drive shafts manually or with improper lifting equipment, as this can lead to accidents and injuries.
5. Inspection and Maintenance:
Prior to working on a drive shaft, thoroughly inspect it for any signs of damage, wear, or misalignment. If any abnormalities are detected, consult a qualified technician or engineer before proceeding. Regular maintenance is also essential to ensure the drive shaft is in good working condition. Follow the manufacturer's recommended maintenance schedule and procedures to minimize the risk of failures or malfunctions.
6. Proper Tools and Equipment:
Use appropriate tools and equipment specifically designed for working with drive shafts. Improper tools or makeshift solutions can lead to accidents or damage to the drive shaft. Ensure that tools are in good condition, properly sized, and suitable for the task at hand. Follow the manufacturer's instructions and guidelines when using specialized tools or equipment.
7. Controlled Release of Stored Energy:
Some drive shafts, particularly those with torsional dampers or other energy-storing components, can store energy even when the power source is disconnected. Exercise caution when working on such drive shafts and ensure that the stored energy is safely released before disassembly or removal.
8. Training and Expertise:
Work on drive shafts should only be performed by individuals with the necessary training, knowledge, and expertise. If you are not familiar with drive shafts or lack the required skills, seek assistance from qualified technicians or professionals. Improper handling or installation of drive shafts can lead to accidents, damage, or compromised performance.
9. Follow Manufacturer's Guidelines:
Always follow the manufacturer's guidelines, instructions, and warnings specific to the drive shaft you are working with. These guidelines provide important information regarding installation, maintenance, and safety considerations. Deviating from the manufacturer's recommendations may result in unsafe conditions or void warranty coverage.
10. Disposal of Old or Damaged Drive Shafts:
Dispose of old or damaged drive shafts in accordance with local regulations and environmental guidelines. Improper disposal can have negative environmental impacts and may violate legal requirements. Consult with local waste management authorities or recycling centers to ensure appropriate disposal methods are followed.
By following these safety precautions, individuals can minimize the risks associated with working with drive shafts and promote a safe working environment. It is crucial to prioritize personal safety, use proper equipment and techniques, and seek professional help when needed to ensure the proper handling and maintenance of drive shafts.
What is a drive shaft and how does it function in vehicles and machinery?
A drive shaft, also known as a propeller shaft or prop shaft, is a mechanical component that plays a critical role in transmitting rotational power from the engine to the wheels or other driven components in vehicles and machinery. It is commonly used in various types of vehicles, including cars, trucks, motorcycles, and agricultural or industrial machinery. Here's a detailed explanation of what a drive shaft is and how it functions:
1. Definition and Construction: A drive shaft is a cylindrical metal tube that connects the engine or power source to the wheels or driven components. It is typically made of steel or aluminum and consists of one or more tubular sections with universal joints (U-joints) at each end. These U-joints allow for angular movement and compensation of misalignment between the engine/transmission and the driven wheels or components.
2. Power Transmission: The primary function of a drive shaft is to transmit rotational power from the engine or power source to the wheels or driven components. In vehicles, the drive shaft connects the transmission or gearbox output shaft to the differential, which then transfers power to the wheels. In machinery, the drive shaft transfers power from the engine or motor to various driven components such as pumps, generators, or other mechanical systems.
3. Torque and Speed: The drive shaft is responsible for transmitting both torque and rotational speed. Torque is the rotational force generated by the engine or power source, while rotational speed is the number of revolutions per minute (RPM). The drive shaft must be capable of transmitting the required torque without excessive twisting or bending and maintaining the desired rotational speed for efficient operation of the driven components.
4. Flexible Coupling: The U-joints on the drive shaft provide a flexible coupling that allows for angular movement and compensation of misalignment between the engine/transmission and the driven wheels or components. As the suspension system of a vehicle moves or the machinery operates on uneven terrain, the drive shaft can adjust its length and angle to accommodate these movements, ensuring smooth power transmission and preventing damage to the drivetrain components.
5. Length and Balance: The length of the drive shaft is determined by the distance between the engine or power source and the driven wheels or components. It should be appropriately sized to ensure proper power transmission and avoid excessive vibrations or bending. Additionally, the drive shaft is carefully balanced to minimize vibrations and rotational imbalances, which can cause discomfort, reduce efficiency, and lead to premature wear of drivetrain components.
6. Safety Considerations: Drive shafts in vehicles and machinery require proper safety measures. In vehicles, drive shafts are often enclosed within a protective tube or housing to prevent contact with moving parts and reduce the risk of injury in the event of a malfunction or failure. Additionally, safety shields or guards are commonly installed around exposed drive shafts in machinery to protect operators from potential hazards associated with rotating components.
7. Maintenance and Inspection: Regular maintenance and inspection of drive shafts are essential to ensure their proper functioning and longevity. This includes checking for signs of wear, damage, or excessive play in the U-joints, inspecting the drive shaft for any cracks or deformations, and lubricating the U-joints as recommended by the manufacturer. Proper maintenance helps prevent failures, ensures optimal performance, and prolongs the service life of the drive shaft.
In summary, a drive shaft is a mechanical component that transmits rotational power from the engine or power source to the wheels or driven components in vehicles and machinery. It functions by providing a rigid connection between the engine/transmission and the driven wheels or components, while also allowing for angular movement and compensation of misalignment through the use of U-joints. The drive shaft plays a crucial role in power transmission, torque and speed delivery, flexible coupling, length and balance considerations, safety, and maintenance requirements. Its proper functioning is essential for the smooth and efficient operation of vehicles and machinery.



editor by CX 2023-11-10
Design: A5, L 2 Appropriate for Mercedes Benz Honda, nissan, Volkswagen, South Korea sequence etc… of goods Energy steering pump . Energy Steering, Mountings/Dampers/Bushings, Brake Learn Cylinder, Clutch Grasp Cylinder, Clutch Slave Cylinder, Boot Steering Rack , CV Joint Package etc…Our firm has been advocating reasonable trade , status 1st and clients foremost in buy to generate revenue together. 1. Who are we? We are primarily based in ZheJiang , China, start from 2015,market to Africa(20.18%),Southeast Asia(20.04%),Domestic Market(15.Push SHAFT South Asia(2.31%),Oceania(1.42%),North America(1.35%),Jap Europe(1.seventeen%),Central America(.86%),Western Europe(.seventy one%),Northern Europe(.21%). There are total about 11-50 folks in our place of work.two. How can we guarantee high quality? Usually a pre-manufacturing sample ahead of mass creation Usually last Inspection before cargothree.What can you purchase from us? Steering Rack,Energy Steering Pump,Brake Grasp Cylinder,Clutch Grasp Cylinder,Vacuum Pump4. Why should you get from us not from other suppliers? ALNSU Auto parts co., LTD is a creation and product sales ,In HangZhou city,China,our company specialized creation and sales of Toyota, Honda, nissan, mitsubushi sequence etc…five. What services can we supply? 1) Accepted Shipping Phrases 2) Acknowledged Payment Currency 3) Accepted Payment Kind 4) Language Spoken6. What will you do for quality complaint ? 1) We will react to consumer in 24 hours. 2) Our QC will retest the very same stock item, Front Generate Shaft Match For Mercedes W204 W221 W212 C230 C250 C3 if confirmed it is good quality problem,we will make corresponding compensation.
Different parts of the drive shaft
The driveshaft is the flexible rod that transmits torque between the transmission and the differential. The term drive shaft may also refer to a cardan shaft, a transmission shaft or a propeller shaft. Parts of the drive shaft are varied and include:
The driveshaft is a flexible rod that transmits torque from the transmission to the differential
When the driveshaft in your car starts to fail, you should seek professional help as soon as possible to fix the problem. A damaged driveshaft can often be heard. This noise sounds like "tak tak" and is usually more pronounced during sharp turns. However, if you can't hear the noise while driving, you can check the condition of the car yourself.
The drive shaft is an important part of the automobile transmission system. It transfers torque from the transmission to the differential, which then transfers it to the wheels. The system is complex, but still critical to the proper functioning of the car. It is the flexible rod that connects all other parts of the drivetrain. The driveshaft is the most important part of the drivetrain, and understanding its function will make it easier for you to properly maintain your car.
Driveshafts are used in different vehicles, including front-wheel drive, four-wheel drive, and front-engine rear-wheel drive. Drive shafts are also used in motorcycles, locomotives and ships. Common front-engine, rear-wheel drive vehicle configurations are shown below. The type of tube used depends on the size, speed and strength of the drive shaft.
The output shaft is also supported by the output link, which has two identical supports. The upper part of the drive module supports a large tapered roller bearing, while the opposite flange end is supported by a parallel roller bearing. This ensures that the torque transfer between the differentials is efficient. If you want to learn more about car differentials, read this article.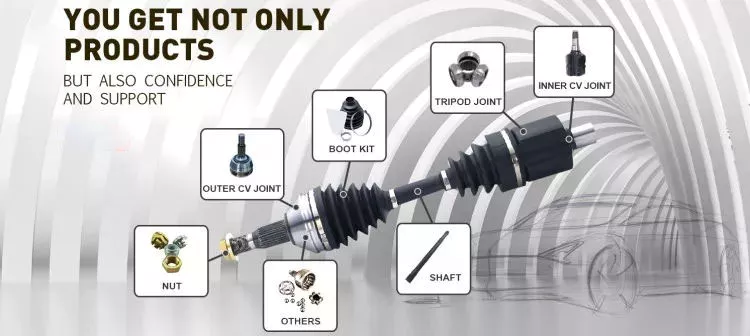 It is also known as cardan shaft, propeller shaft or drive shaft
A propshaft or propshaft is a mechanical component that transmits rotation or torque from an engine or transmission to the front or rear wheels of a vehicle. Because the axes are not directly connected to each other, it must allow relative motion. Because of its role in propelling the vehicle, it is important to understand the components of the driveshaft. Here are some common types.
Isokinetic Joint: This type of joint guarantees that the output speed is the same as the input speed. To achieve this, it must be mounted back-to-back on a plane that bisects the drive angle. Then mount the two gimbal joints back-to-back and adjust their relative positions so that the velocity changes at one joint are offset by the other joint.
Driveshaft: The driveshaft is the transverse shaft that transmits power to the front wheels. Driveshaft: The driveshaft connects the rear differential to the transmission. The shaft is part of a drive shaft assembly that includes a drive shaft, a slip joint, and a universal joint. This shaft provides rotational torque to the drive shaft.
Dual Cardan Joints: This type of driveshaft uses two cardan joints mounted back-to-back. The center yoke replaces the intermediate shaft. For the duplex universal joint to work properly, the angle between the input shaft and the output shaft must be equal. Once aligned, the two axes will operate as CV joints. An improved version of the dual gimbal is the Thompson coupling, which offers slightly more efficiency at the cost of added complexity.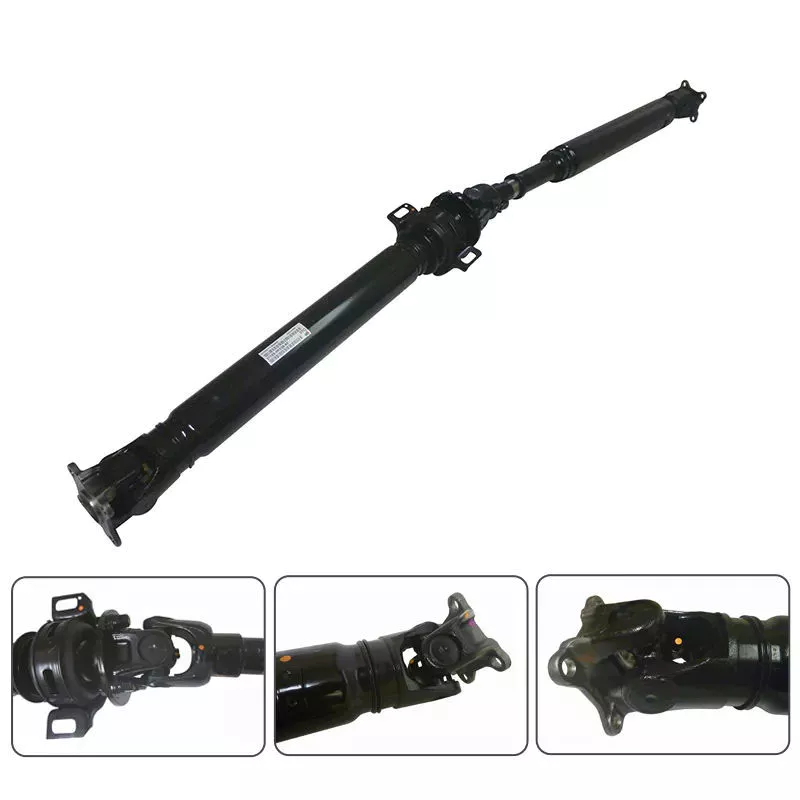 It transmits torque at different angles between driveline components
A vehicle's driveline consists of various components that transmit power from the engine to the wheels. This includes axles, propshafts, CV joints and differentials. Together, these components transmit torque at different angles between driveline components. A car's powertrain can only function properly if all its components work in harmony. Without these components, power from the engine would stop at the transmission, which is not the case with a car.
The CV driveshaft design provides smoother operation at higher operating angles and extends differential and transfer case life. The assembly's central pivot point intersects the joint angle and transmits smooth rotational power and surface speed through the drivetrain. In some cases, the C.V. "U" connector. Drive shafts are not the best choice because the joint angles of the "U" joints are often substantially unequal and can cause torsional vibration.
Driveshafts also have different names, including driveshafts. A car's driveshaft transfers torque from the transmission to the differential, which is then distributed to other driveline components. A power take-off (PTO) shaft is similar to a prop shaft. They transmit mechanical power to connected components. They are critical to the performance of any car. If any of these components are damaged, the entire drivetrain will not function properly.
A car's powertrain can be complex and difficult to maintain. Adding vibration to the drivetrain can cause premature wear and shorten overall life. This driveshaft tip focuses on driveshaft assembly, operation, and maintenance, and how to troubleshoot any problems that may arise. Adding proper solutions to pain points can extend the life of the driveshaft. If you're in the market for a new or used car, be sure to read this article.
it consists of several parts
"It consists of several parts" is one of seven small prints. This word consists of 10 letters and is one of the hardest words to say. However, it can be explained simply by comparing it to a cow's kidney. The cocoa bean has several parts, and the inside of the cocoa bean before bursting has distinct lines. This article will discuss the different parts of the cocoa bean and provide a fun way to learn more about the word.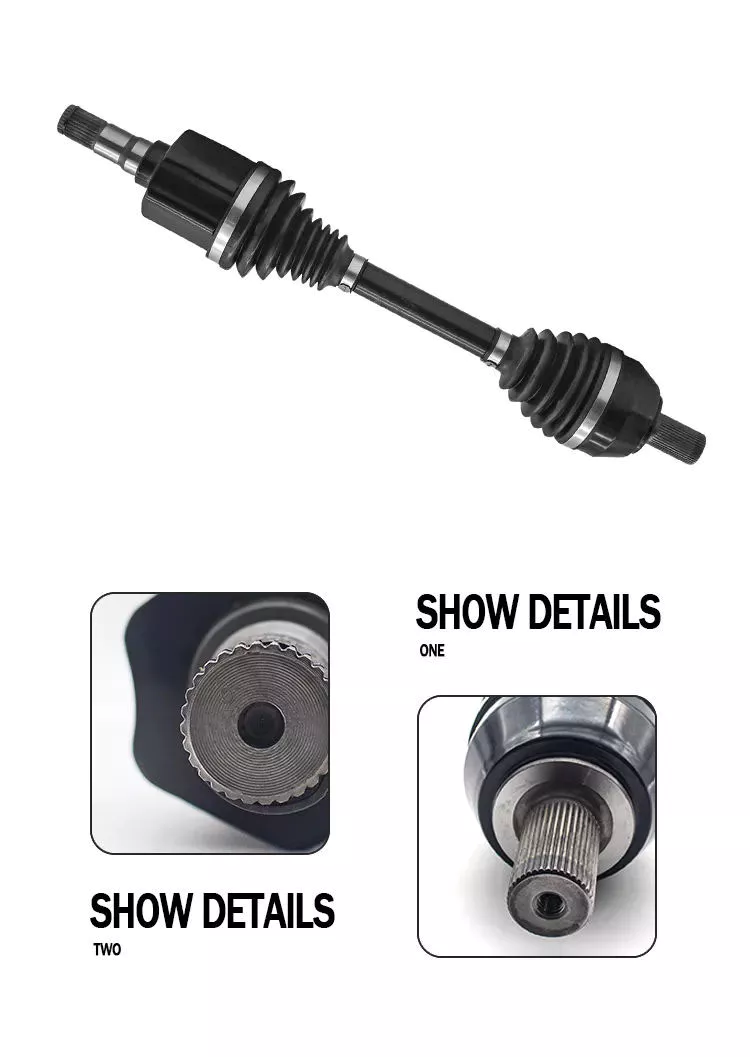 Replacement is expensive
Replacing a car's driveshaft can be an expensive affair, and it's not the only part that needs servicing. A damaged drive shaft can also cause other problems. This is why getting estimates from different repair shops is essential. Often, a simple repair is cheaper than replacing the entire unit. Listed below are some tips for saving money when replacing a driveshaft. Listed below are some of the costs associated with repairs:
First, learn how to determine if your vehicle needs a driveshaft replacement. Damaged driveshaft components can cause intermittent or lack of power. Additionally, improperly installed or assembled driveshaft components can cause problems with the daily operation of the car. Whenever you suspect that your car needs a driveshaft repair, seek professional advice. A professional mechanic will have the knowledge and experience needed to properly solve the problem.
Second, know which parts need servicing. Check the u-joint bushing. They should be free of crumbs and not cracked. Also, check the center support bearing. If this part is damaged, the entire drive shaft needs to be replaced. Finally, know which parts to replace. The maintenance cost of the drive shaft is significantly lower than the maintenance cost. Finally, determine if the repaired driveshaft is suitable for your vehicle.
If you suspect your driveshaft needs service, make an appointment with a repair shop as soon as possible. If you are experiencing vibration and rough riding, driveshaft repairs may be the best way to prevent costly repairs in the future. Also, if your car is experiencing unusual noise and vibration, a driveshaft repair may be a quick and easy solution. If you don't know how to diagnose a problem with your car, you can take it to a mechanic for an appointment and a quote.



editor by czh 2023-03-02