Product Description
Basic Info. of Our Customized CNC Machining Parts
Quotation
According To Your Drawings or Samples. (Size, Material, Thickness, Processing Content And Required Technology, etc.)
Tolerance 
+/-0.005 – 0.01mm (Customizable)
Surface Roughness
Ra0.2 – Ra3.2 (Customizable)
Materials Available
Aluminum, Copper, Brass, Stainless Steel, Titanium, Iron, Plastic, Acrylic, PE, PVC, ABS, POM, PTFE etc.
Surface Treatment
Polishing, Surface Chamfering, Hardening and Tempering, Nickel plating, Chrome plating, zinc plating, Laser engraving, Sandblasting, Passivating, Clear Anodized, Color Anodized, Sandblast Anodized, Chemical Film, Brushing, etc.
Processing
Hot/Cold forging, Heat treatment, CNC Turning, Milling, Drilling and Tapping, Surface Treatment, Laser Cutting, Stamping, Die Casting, Injection Molding, etc.
Testing Equipment
Coordinate Measuring Machine (CMM) / Vernier Caliper/ / Automatic Height Gauge /Hardness Tester /Surface Roughness Teste/Run-out Instrument/Optical Projector, Micrometer/ Salt spray testing machine
Drawing Formats
PRO/E, Auto CAD, CZPT Works , UG, CAD / CAM / CAE, PDF
Our Advantages
1.) 24 hours online service & quickly quote and delivery.
2.) 100% quality inspection (with Quality Inspection Report) before delivery. All our products are manufactured under ISO 9001:2015.
3.) A strong, professional and reliable technical team with 16+ years of manufacturing experience.
4.) We have stable supply chain partners, including raw material suppliers, bearing suppliers, forging plants, surface treatment plants, etc.
5.) We can provide customized assembly services for those customers who have assembly needs.
Available Material
Stainless Steel
   SS201,SS301, SS303, SS304, SS316, SS416, etc.
Steel
   mild steel, Carbon steel, 4140, 4340, Q235, Q345B, 20#, 45#, etc.
Brass
   HPb63, HPb62, HPb61, HPb59, H59, H62, H68, H80, etc.
Copper
    C11000, C12000,C12000, C36000 etc.
Aluminum
    A380, AL2571, AL6061, Al6063, AL6082, AL7075, AL5052, etc.
Iron
    A36, 45#, 1213, 12L14, 1215 etc.
Plastic
    ABS, PC, PE, POM, Delrin, Nylon, PP, PEI, Peek etc.
Others
    Various types of Titanium alloy, Rubber, Bronze, etc.
Available Surface Treatment
Stainless Steel
Polishing, Passivating, Sandblasting, Laser engraving, etc.
Steel
Zinc plating, Oxide black, Nickel plating, Chrome plating, Carburized, Powder Coated, etc.
Aluminum parts
Clear Anodized, Color Anodized, Sandblast Anodized, Chemical Film, Brushing, Polishing, etc.
Plastic
Plating gold(ABS), Painting, Brushing(Acylic), Laser engraving, etc.
FAQ:
Q1: Are you a trading company or a factory?
A1: We are a factory
Q2: How long is your delivery time?
A2: Samples are generally 3-7 days; bulk orders are 10-25 days, depending on the quantity and parts requirements.
Q3: Do you provide samples? Is it free or extra?
A3: Yes, we can provide samples, and we will charge you based on sample processing. The sample fee can be refunded after placing an order in batches.
Q4: Do you provide design drawings service?
A4: We mainly customize according to the drawings or samples provided by customers. For customers who don't know much about drawing, we also   provide design and drawing services. You need to provide samples or sketches.
Q5: What about drawing confidentiality?
A5: The processed samples and drawings are strictly confidential and will not be disclosed to anyone else.
Q6: How do you guarantee the quality of your products?
A6: We have set up multiple inspection procedures and can provide quality inspection report before delivery. And we can also provide samples for you to test before mass production.
 
| | |
| --- | --- |
| Certification: | CE, RoHS, GS, ISO9001 |
| Standard: | DIN, ASTM, GOST, GB, JIS, ANSI, BS |
| Customized: | Customized |
| Material: | Metal |
| Application: | Metal Recycling Machine, Metal Cutting Machine, Metal Straightening Machinery, Metal Spinning Machinery, Metal Processing Machinery Parts, Metal forging Machinery, Metal Engraving Machinery, Metal Drawing Machinery, Metal Coating Machinery, Metal Casting Machinery |
| Tolerance: | +/-0.005 – 0.01mm |
Samples:

US$ 1/Piece

1 Piece(Min.Order)

|
Request Sample
Customization:

Available

|

Customized Request
What maintenance practices are crucial for prolonging the lifespan of drive shafts?
To prolong the lifespan of drive shafts and ensure their optimal performance, several maintenance practices are crucial. Regular maintenance helps identify and address potential issues before they escalate, reduces wear and tear, and ensures the drive shaft operates smoothly and efficiently. Here are some essential maintenance practices for prolonging the lifespan of drive shafts:
1. Regular Inspection:
Performing regular inspections is vital for detecting any signs of wear, damage, or misalignment. Inspect the drive shaft visually, looking for cracks, dents, or any signs of excessive wear on the shaft itself and its associated components such as joints, yokes, and splines. Check for any signs of lubrication leaks or contamination. Additionally, inspect the fasteners and mounting points to ensure they are secure. Early detection of any issues allows for timely repairs or replacements, preventing further damage to the drive shaft.
2. Lubrication:
Proper lubrication is essential for the smooth operation and longevity of drive shafts. Lubricate the joints, such as universal joints or constant velocity joints, as recommended by the manufacturer. Lubrication reduces friction, minimizes wear, and helps dissipate heat generated during operation. Use the appropriate lubricant specified for the specific drive shaft and application, considering factors such as temperature, load, and operating conditions. Regularly check the lubrication levels and replenish as necessary to ensure optimal performance and prevent premature failure.
3. Balancing and Alignment:
Maintaining proper balancing and alignment is crucial for the lifespan of drive shafts. Imbalances or misalignments can lead to vibrations, accelerated wear, and potential failure. If vibrations or unusual noises are detected during operation, it is important to address them promptly. Perform balancing procedures as necessary, including dynamic balancing, to ensure even weight distribution along the drive shaft. Additionally, verify that the drive shaft is correctly aligned with the engine or power source and the driven components. Misalignment can cause excessive stress on the drive shaft, leading to premature failure.
4. Protective Coatings:
Applying protective coatings can help prolong the lifespan of drive shafts, particularly in applications exposed to harsh environments or corrosive substances. Consider using coatings such as zinc plating, powder coating, or specialized corrosion-resistant coatings to enhance the drive shaft's resistance to corrosion, rust, and chemical damage. Regularly inspect the coating for any signs of degradation or damage, and reapply or repair as necessary to maintain the protective barrier.
5. Torque and Fastener Checks:
Ensure that the drive shaft's fasteners, such as bolts, nuts, or clamps, are properly torqued and secured according to the manufacturer's specifications. Loose or improperly tightened fasteners can lead to excessive vibrations, misalignment, or even detachment of the drive shaft. Periodically check and retighten the fasteners as recommended or after any maintenance or repair procedures. Additionally, monitor the torque levels during operation to ensure they remain within the specified range, as excessive torque can strain the drive shaft and lead to premature failure.
6. Environmental Protection:
Protecting the drive shaft from environmental factors can significantly extend its lifespan. In applications exposed to extreme temperatures, moisture, chemicals, or abrasive substances, take appropriate measures to shield the drive shaft. This may include using protective covers, seals, or guards to prevent contaminants from entering and causing damage. Regular cleaning of the drive shaft, especially in dirty or corrosive environments, can also help remove debris and prevent buildup that could compromise its performance and longevity.
7. Manufacturer Guidelines:
Follow the manufacturer's guidelines and recommendations for maintenance practices specific to the drive shaft model and application. The manufacturer's instructions may include specific intervals for inspections, lubrication, balancing, or other maintenance tasks. Adhering to these guidelines ensures that the drive shaft is properly maintained and serviced, maximizing its lifespan and minimizing the risk of unexpected failures.
By implementing these maintenance practices, drive shafts can operate reliably, maintain efficient power transmission, and have an extended service life, ultimately reducing downtime and ensuring optimal performance in various applications.
How do drive shafts enhance the performance of automobiles and trucks?
Drive shafts play a significant role in enhancing the performance of automobiles and trucks. They contribute to various aspects of vehicle performance, including power delivery, traction, handling, and overall efficiency. Here's a detailed explanation of how drive shafts enhance the performance of automobiles and trucks:
1. Power Delivery: Drive shafts are responsible for transmitting power from the engine to the wheels, enabling the vehicle to move forward. By efficiently transferring power without significant losses, drive shafts ensure that the engine's power is effectively utilized, resulting in improved acceleration and overall performance. Well-designed drive shafts with minimal power loss contribute to the vehicle's ability to deliver power to the wheels efficiently.
2. Torque Transfer: Drive shafts facilitate the transfer of torque from the engine to the wheels. Torque is the rotational force that drives the vehicle forward. High-quality drive shafts with proper torque conversion capabilities ensure that the torque generated by the engine is effectively transmitted to the wheels. This enhances the vehicle's ability to accelerate quickly, tow heavy loads, and climb steep gradients, thereby improving overall performance.
3. Traction and Stability: Drive shafts contribute to the traction and stability of automobiles and trucks. They transmit power to the wheels, allowing them to exert force on the road surface. This enables the vehicle to maintain traction, especially during acceleration or when driving on slippery or uneven terrain. The efficient power delivery through the drive shafts enhances the vehicle's stability by ensuring balanced power distribution to all wheels, improving control and handling.
4. Handling and Maneuverability: Drive shafts have an impact on the handling and maneuverability of vehicles. They help establish a direct connection between the engine and the wheels, allowing for precise control and responsive handling. Well-designed drive shafts with minimal play or backlash contribute to a more direct and immediate response to driver inputs, enhancing the vehicle's agility and maneuverability.
5. Weight Reduction: Drive shafts can contribute to weight reduction in automobiles and trucks. Lightweight drive shafts made from materials such as aluminum or carbon fiber-reinforced composites reduce the overall weight of the vehicle. The reduced weight improves the power-to-weight ratio, resulting in better acceleration, handling, and fuel efficiency. Additionally, lightweight drive shafts reduce the rotational mass, allowing the engine to rev up more quickly, further enhancing performance.
6. Mechanical Efficiency: Efficient drive shafts minimize energy losses during power transmission. By incorporating features such as high-quality bearings, low-friction seals, and optimized lubrication, drive shafts reduce friction and minimize power losses due to internal resistance. This enhances the mechanical efficiency of the drivetrain system, allowing more power to reach the wheels and improving overall vehicle performance.
7. Performance Upgrades: Drive shaft upgrades can be popular performance enhancements for enthusiasts. Upgraded drive shafts, such as those made from stronger materials or with enhanced torque capacity, can handle higher power outputs from modified engines. These upgrades allow for increased performance, such as improved acceleration, higher top speeds, and better overall driving dynamics.
8. Compatibility with Performance Modifications: Performance modifications, such as engine upgrades, increased power output, or changes to the drivetrain system, often require compatible drive shafts. Drive shafts designed to handle higher torque loads or adapt to modified drivetrain configurations ensure optimal performance and reliability. They enable the vehicle to effectively harness the increased power and torque, resulting in improved performance and responsiveness.
9. Durability and Reliability: Robust and well-maintained drive shafts contribute to the durability and reliability of automobiles and trucks. They are designed to withstand the stresses and loads associated with power transmission. High-quality materials, appropriate balancing, and regular maintenance help ensure that drive shafts operate smoothly, minimizing the risk of failures or performance issues. Reliable drive shafts enhance the overall performance by providing consistent power delivery and minimizing downtime.
10. Compatibility with Advanced Technologies: Drive shafts are evolving in tandem with advancements in vehicle technologies. They are increasingly being integrated with advanced systems such as hybrid powertrains, electric motors, and regenerative braking. Drive shafts designed to work seamlessly with these technologies maximize their efficiency and performance benefits, contributing to improved overall vehicle performance.
In summary, drive shafts enhance the performance of automobiles and trucks by optimizing power delivery, facilitating torque transfer, improving traction and stability, enhancing handling and maneuverability, reducing weight, increasing mechanical efficiency, enabling compatibility with performance upgrades and advanced technologies, and ensuring durability and reliability. They play a crucial role in ensuring efficient power transmission, responsive acceleration, precise handling, and overall improved performance of vehicles.
How do drive shafts handle variations in length and torque requirements?
Drive shafts are designed to handle variations in length and torque requirements in order to efficiently transmit rotational power. Here's an explanation of how drive shafts address these variations:
Length Variations:
Drive shafts are available in different lengths to accommodate varying distances between the engine or power source and the driven components. They can be custom-made or purchased in standardized lengths, depending on the specific application. In situations where the distance between the engine and the driven components is longer, multiple drive shafts with appropriate couplings or universal joints can be used to bridge the gap. These additional drive shafts effectively extend the overall length of the power transmission system.
Additionally, some drive shafts are designed with telescopic sections. These sections can be extended or retracted, allowing for adjustments in length to accommodate different vehicle configurations or dynamic movements. Telescopic drive shafts are commonly used in applications where the distance between the engine and the driven components may change, such as in certain types of trucks, buses, and off-road vehicles.
Torque Requirements:
Drive shafts are engineered to handle varying torque requirements based on the power output of the engine or power source and the demands of the driven components. The torque transmitted through the drive shaft depends on factors such as the engine power, load conditions, and the resistance encountered by the driven components.
Manufacturers consider torque requirements when selecting the appropriate materials and dimensions for drive shafts. Drive shafts are typically made from high-strength materials, such as steel or aluminum alloys, to withstand the torque loads without deformation or failure. The diameter, wall thickness, and design of the drive shaft are carefully calculated to ensure it can handle the expected torque without excessive deflection or vibration.
In applications with high torque demands, such as heavy-duty trucks, industrial machinery, or performance vehicles, drive shafts may have additional reinforcements. These reinforcements can include thicker walls, cross-sectional shapes optimized for strength, or composite materials with superior torque-handling capabilities.
Furthermore, drive shafts often incorporate flexible joints, such as universal joints or constant velocity (CV) joints. These joints allow for angular misalignment and compensate for variations in the operating angles between the engine, transmission, and driven components. They also help absorb vibrations and shocks, reducing stress on the drive shaft and enhancing its torque-handling capacity.
In summary, drive shafts handle variations in length and torque requirements through customizable lengths, telescopic sections, appropriate materials and dimensions, and the inclusion of flexible joints. By carefully considering these factors, drive shafts can efficiently and reliably transmit power while accommodating the specific needs of different applications.



editor by CX 2023-11-07
Solution Description
Solution Description
This merchandise is employed for Xihu (West Lake) Dis.feng Truck EQ245 chassis . Our innovation brings greater turning radius and other advantages to the shaft. It has increased functionality and high quality depending on our unique procedure merchandise. We take personalized improvement and innovation based mostly on drawings and samples.
Firm Profile
HangZhou Minyang Car Areas Producing Co., Ltd. – focuses on the OEM production of chassis parts of vehicles, trucks, agricultural equipment and engineering equipment for a lot more than fifteen years.
FAQ
Q: Which payment terms will you accept?
A: We can take TT, Western union, paypal and cash etc 
Q: When my buy will be transported?
A:When we get payment, we will ship your order within twenty doing work times.
Q: Which shipping will you provide?
A:By sea, air,  DHL, Fedex, TNT, UPS, EMS, SF 
Q: How long does it take to my handle?
A:The standard shipping time is 20days, dependent on which country you are in.
Q: How can I trace my order?
A:We will send you the tracking quantity by electronic mail.
Q: If I am not pleased with the items, what need to I do?
A:You can contact us and tell us about your issue. We will offer you trade or restore service under warranty.
US $10-999




/ Piece




|

20 Pieces



(Min. Order)

###
| | |
| --- | --- |
| After-sales Service: | 1year |
| Condition: | New |
| Axle Number: | 1 |
| Application: | Truck |
| Certification: | ISO |
| Material: | 40cr Carbon Steel |
###
Samples:

US$ 50/Piece

1 Piece(Min.Order)
###
US $10-999




/ Piece




|

20 Pieces



(Min. Order)

###
| | |
| --- | --- |
| After-sales Service: | 1year |
| Condition: | New |
| Axle Number: | 1 |
| Application: | Truck |
| Certification: | ISO |
| Material: | 40cr Carbon Steel |
###
Samples:

US$ 50/Piece

1 Piece(Min.Order)
###
How to Replace the Drive Shaft
Several different functions in a vehicle are critical to its functioning, but the driveshaft is probably the part that needs to be understood the most. A damaged or damaged driveshaft can damage many other auto parts. This article will explain how this component works and some of the signs that it may need repair. This article is for the average person who wants to fix their car on their own but may not be familiar with mechanical repairs or even driveshaft mechanics. You can click the link below for more information.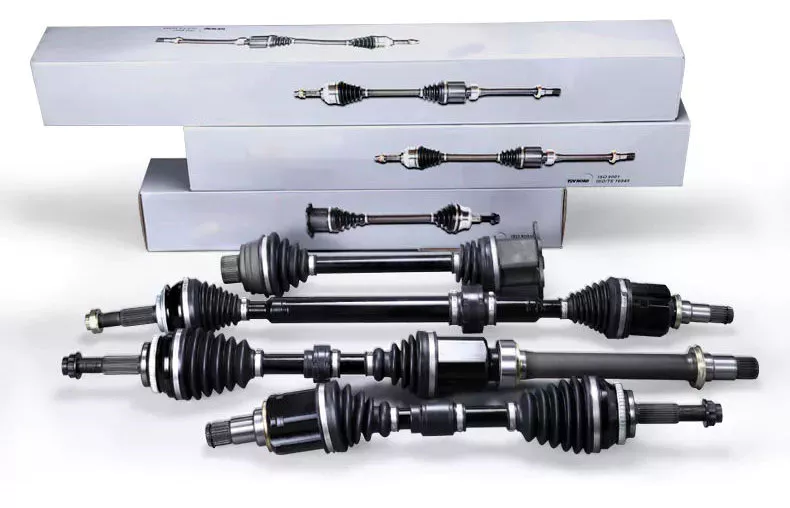 Repair damaged driveshafts
If you own a car, you should know that the driveshaft is an integral part of the vehicle's driveline. They ensure efficient transmission of power from the engine to the wheels and drive. However, if your driveshaft is damaged or cracked, your vehicle will not function properly. To keep your car safe and running at peak efficiency, you should have it repaired as soon as possible. Here are some simple steps to replace the drive shaft.
First, diagnose the cause of the drive shaft damage. If your car is making unusual noises, the driveshaft may be damaged. This is because worn bushings and bearings support the drive shaft. Therefore, the rotation of the drive shaft is affected. The noise will be squeaks, dings or rattles. Once the problem has been diagnosed, it is time to repair the damaged drive shaft.
Professionals can repair your driveshaft at relatively low cost. Costs vary depending on the type of drive shaft and its condition. Axle repairs can range from $300 to $1,000. Labor is usually only around $200. A simple repair can cost between $150 and $1700. You'll save hundreds of dollars if you're able to fix the problem yourself. You may need to spend a few more hours educating yourself about the problem before handing it over to a professional for proper diagnosis and repair.
The cost of repairing a damaged driveshaft varies by model and manufacturer. It can cost as much as $2,000 depending on parts and labor. While labor costs can vary, parts and labor are typically around $70. On average, a damaged driveshaft repair costs between $400 and $600. However, these parts can be more expensive than that. If you don't want to spend money on unnecessarily expensive repairs, you may need to pay a little more.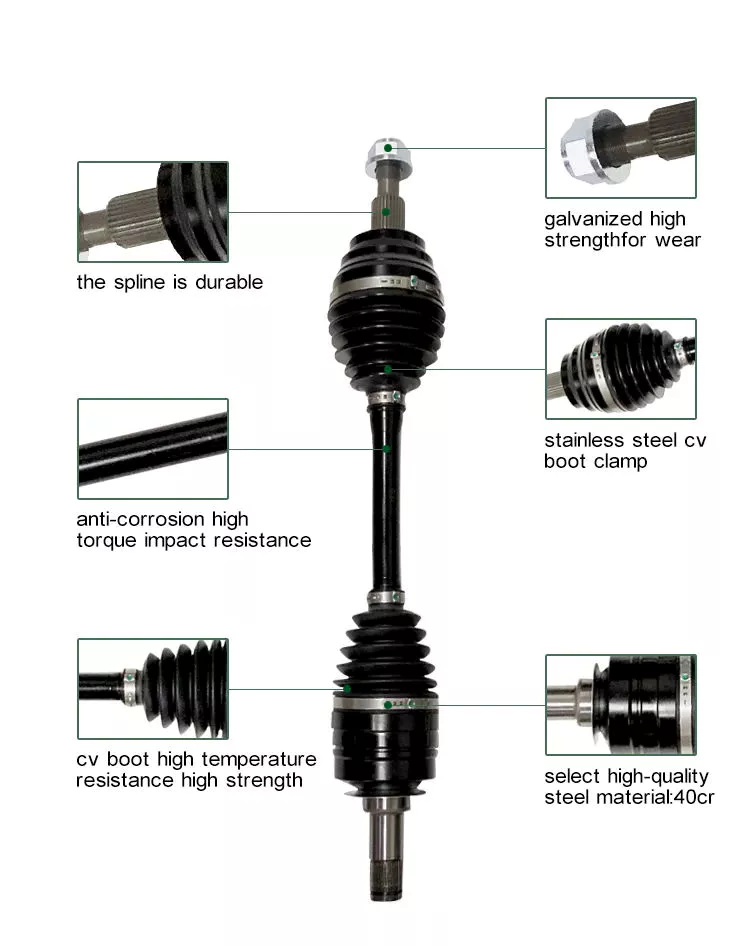 Learn how drive shafts work
While a car engine may be one of the most complex components in your vehicle, the driveshaft has an equally important job. The driveshaft transmits the power of the engine to the wheels, turning the wheels and making the vehicle move. Driveshaft torque refers to the force associated with rotational motion. Drive shafts must be able to withstand extreme conditions or they may break. Driveshafts are not designed to bend, so understanding how they work is critical to the proper functioning of the vehicle.
The drive shaft includes many components. The CV connector is one of them. This is the last stop before the wheels spin. CV joints are also known as "doughnut" joints. The CV joint helps balance the load on the driveshaft, the final stop between the engine and the final drive assembly. Finally, the axle is a single rotating shaft that transmits power from the final drive assembly to the wheels.
Different types of drive shafts have different numbers of joints. They transmit torque from the engine to the wheels and must accommodate differences in length and angle. The drive shaft of a front-wheel drive vehicle usually includes a connecting shaft, an inner constant velocity joint and an outer fixed joint. They also have anti-lock system rings and torsional dampers to help them run smoothly. This guide will help you understand the basics of driveshafts and keep your car in good shape.
The CV joint is the heart of the driveshaft, it enables the wheels of the car to move at a constant speed. The connector also helps transmit power efficiently. You can learn more about CV joint driveshafts by looking at the top 3 driveshaft questions
The U-joint on the intermediate shaft may be worn or damaged. Small deviations in these joints can cause slight vibrations and wobble. Over time, these vibrations can wear out drivetrain components, including U-joints and differential seals. Additional wear on the center support bearing is also expected. If your driveshaft is leaking oil, the next step is to check your transmission.
The drive shaft is an important part of the car. They transmit power from the engine to the transmission. They also connect the axles and CV joints. When these components are in good condition, they transmit power to the wheels. If you find them loose or stuck, it can cause the vehicle to bounce. To ensure proper torque transfer, your car needs to stay on the road. While rough roads are normal, bumps and bumps are common.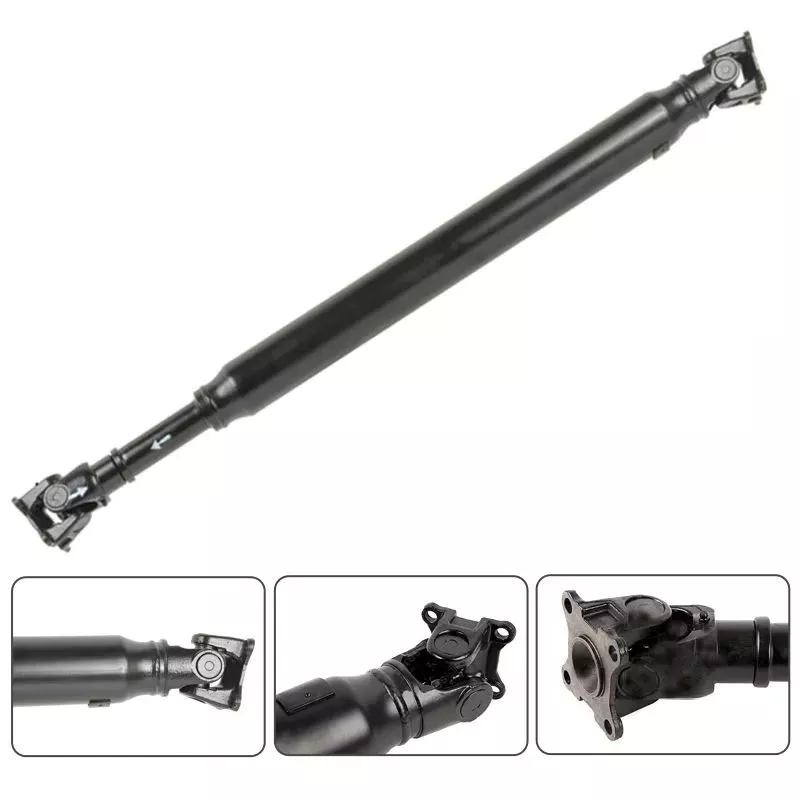 Common signs of damaged driveshafts
If your vehicle vibrates heavily underneath, you may be dealing with a faulty propshaft. This issue limits your overall control of the vehicle and cannot be ignored. If you hear this noise frequently, the problem may be the cause and should be diagnosed as soon as possible. Here are some common symptoms of a damaged driveshaft. If you experience this noise while driving, you should have your vehicle inspected by a mechanic.
A clanging sound can also be one of the signs of a damaged driveshaft. A ding may be a sign of a faulty U-joint or center bearing. This can also be a symptom of worn center bearings. To keep your vehicle safe and functioning properly, it is best to have your driveshaft inspected by a certified mechanic. This can prevent serious damage to your car.
A worn drive shaft can cause difficulty turning, which can be a major safety issue. Fortunately, there are many ways to tell if your driveshaft needs service. The first thing you can do is check the u-joint itself. If it moves too much or too little in any direction, it probably means your driveshaft is faulty. Also, rust on the bearing cap seals may indicate a faulty drive shaft.
The next time your car rattles, it might be time for a mechanic to check it out. Whether your vehicle has a manual or automatic transmission, the driveshaft plays an important role in your vehicle's performance. When one or both driveshafts fail, it can make the vehicle unsafe or impossible to drive. Therefore, you should have your car inspected by a mechanic as soon as possible to prevent further problems.
Your vehicle should also be regularly lubricated with grease and chain to prevent corrosion. This will prevent grease from escaping and causing dirt and grease to build up. Another common sign is a dirty driveshaft. Make sure your phone is free of debris and in good condition. Finally, make sure the driveshaft chain and cover are in place. In most cases, if you notice any of these common symptoms, your vehicle's driveshaft should be replaced.
Other signs of a damaged driveshaft include uneven wheel rotation, difficulty turning the car, and increased drag when trying to turn. A worn U-joint also inhibits the ability of the steering wheel to turn, making it more difficult to turn. Another sign of a faulty driveshaft is the shuddering noise the car makes when accelerating. Vehicles with damaged driveshafts should be inspected as soon as possible to avoid costly repairs.



editor by czh 2022-12-08

Our goods are manufactured by modern computerized machinery and tools. The higher specific CNC equipment, such as Gradual-feeding wire-lower device, jig grinding machine and electrical discharge device, ensures the prime high quality precision of mould processing, with the high efficient and environmental security acid rolling line getting the greatest uncooked content converting gear in the subject in china The wildly use of automated milling device, high-pace automatic feeding punch, substantial pace automated rolling and assembling machine assures the substantial top quality and effectiveness of components and chain making. assures the stability and consistency of the crucial function of factors.
BKM063 EPT worm reduction EPT motor EPTed EPT large speed EPT helical hypoid manufacture PTO planetary electric powered vehicle iron double car
Merchandise Traits
one period Drive by hypoid EPT comma has big ratios interval
2 period Large in output torque comma high performance comma power conserving and environmental protection interval
three period Manufactured of high top quality EPT alloy comma ligEPT in weigEPT and non-rusting
four period of time Clean in running and low in noise comma can function EPT in dreadful circumstances time period
5 period of time Good-hunting in physical appearance comma sturdy in support daily life and modest in volume interval
6 time period Ideal for all round installation comma vast application and straightforward of use time period
seven time period The Mounting Dimension of BKM series are appropriate with NMRV collection worm EPT unit lparA element of NMRV050 dimensions are diverse from BKM050 rpar
eight interval Modular and multi-framework can fulfill the calls for of numerous situations period
Type
BKM50 commaBKM63 commaBKM75 commaBKM90 commaBKM110
EPT Phase
B colon 2 stages
C colon three levels
Ratio
B colon seven period5 comma10 comma12 period5 comma15 comma20 comma25 comma30 comma40 comma50 comma60
C colon fifty comma60 comma75 comma100 comma125 comma150 comma200 comma250 comma300
Output torque
Up to 500N periodm
EPT EPT
period12~five period5KW commawith flange colonB5 or B14
EPT materials
EPT alloy
Output shaft
material colon 40Cr
Hardness amount colon 242-286HB
Helical EPT
EPT colon20CrMnTi
Hardness stage colon 58-62HRC
EPT stage colon6 grade
EPT performance
B colon92 percnt-ninety four percnt
C colon90 percnt-92 percnt
Oil seal model
SKF
EPT
C ampU
Lubricant
Mineral oil or artificial oil
our organization